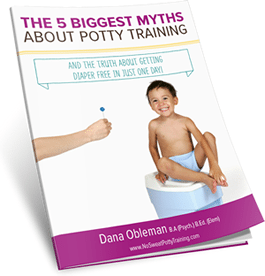 Is Your Child Ready to
Start Potty Training?
The answer may surprise you...
because most of the "conventional wisdom"
about potty training is flat-out wrong!
In this FREE report, I expose the biggest
myths about potty training, including:



Why "pull-up" training pants are a scam... and how they can actually sabotage your child's potty training!
Why most of the talk about potty training being difficult and traumatic for your child is nonsense.
Why letting your child decide when to start potty training could be a HUGE mistake!
Why you need to approach daytime "accidents" and a wet diaper at night completely differently...
The difference between potty training boys & girls!


About the "No-Sweat Potty Training" System
If you and your child are ready to say "goodbye" to diapers... and you're looking for a fast, fun, and tantrum-free way to get started, here's what you'll get with the No-Sweat Potty Training system:
The "No-Sweat Potty Training" Guide. A full 55 pages of easy-to-follow instructions that show you exactly what to do (and what to say to your child) every step of the way.
No-Sweat Potty Training Fast-Start Workbook. An additional 28-page resource containing checklists, daily progress sheets, nighttime training charts, and much more!
Reward Coupons, Charts & Certificates. These are great for motivating and rewarding your little one along the way! Different designs for boys & girls. 20 in all!
"No-Sweat Potty Training" Video Library. In-depth video presentations where we'll cover the finer points of potty training - and what to do when things don't go exactly as planned.
Testimonials

Thank you so much for the potty training package. It works great, my 2 1/2 was so good at it she even beat her older brother.
~ Anita J.
I can already see a difference in her understanding of when she needs to go. We have not had a poop accident since we started the program.
~ Shandy M.

The No-Sweat Potty Training Philosophy
First things first: I believe that potty training is a really big deal - for both you and your child! The biggest benefit for you (as a parent) is...
[READ MORE]
Want to know a little bit more about me, my background, or why I'm qualified to give you advice about potty training your son or daughter?
Click here!
&copy 2021 Dana Obleman - All Rights Reserved